define Womens High Protein Powder 1kg
Product Description

Transform Yourself

Finding it hard to burn as much body fat as you would like?

Looking for a product that contains clinically proven ingredients that helps burns fat, assists body tone as well as keep you fuller for longer? define for women gives you a delicious, low carb, low fat and gluten free protein powder that will help keep your metabolism firing all day long and getting you noticeable results fast!


Clinically Proven Fat Burning Ingredients
Combines premium protein with proven thermogenic agents to burn unwanted fat and build tone.
Appetite Control
Protein plays a key role in weight management by controlling appetite, providing a longer sense of fullness and lifting metabolism.
Designed Specifically for Women
This delicious high protein, ultra-low carb, ultra-low fat, ultra-low sugar and gluten free formula will help keep you fuller for longer and help boost your energy throughout the day.
21 Vitamins and Minerals
Packed with essential vitamins and minerals uniquely blended to support the lifestyle and nutritional needs for women.
---
Boost

Your Exercise


Boost

Your Results
---
Nutrition Facts at a Glance
1kg | 40 Serves (25g) | Carbs 1.9g | Sugars 1.1g | Fat 1.3g per serve
---
Best in Class
If you are serious about your body transformation then you need to ensure a regular intake of high quality protein.
The advanced protein used in define is slowly broken down by the body, providing a steady, long lasting supply of energy throughout the day. In addition, define plays a key role in controlling appetite, providing a longer sense of fullness and lifting metabolism helping you burn stored body fat. define protein contains one of the highest protein levels in its class and is boosted with 21 vitamins and minerals as well as fat burning thermogenics clinically proven to boost fat burning. define protein is enjoyed by thousands of Australian women every day and here's why...
Helps improve body shape
Long lasting source of energy
Controls appetite
Boosts metabolism
define protein includes 21 Vitamins & Minerals
* Number 1 based on protein content per 100g compared to similar products as of October 2015
---
Benefits
Backed
By Science!
A smooth, delicious, milkshake like taste that mixes easily into milk and water and is 100% guaranteed to satisfy.
With clinically proven fat burning ingredients the define High Protein Powder will ignite your stunning transformation this summer.


---
Assists Body Tone
High quality protein from whey and soy helps to build and repair lean muscle for a trimmer, more tone physique.
Clinically Proven Fat Metabolisers
Combines quality protein with proven thermogenic agents. Contains L-Carnitine, L-Methionine, Choline & Chromium Picolinate.
21 Vitamins & Minerals
Contains 21 vitamins and minerals to provide support for unique liefestyle and nutritional needs of women.
Improves Appetite Control
Protein plays a key role in weight management by controlling appetite, providing a longer sense of fullness and lifting metabolism.
Healthy Snack Alternative
Designed to support a busy lifestyle providing a convenient and satisfying way to help women achieve their goals.
---
Get it Now!!
Great Taste
100% Guaranteed
Independently Verified


Simply mix or blend 250-300mL of water or skim milk and consume 30 min before exercise and/or immediately after.
The low carb and low fat characteristics also makes it suitable for quick & easy breakfast or light meal replacement.
---
MORE BUYING OPTIONS

Not all flavours and sizes available at all retail stores
Product Reviews
Write Review
Best product on the market

Posted by Deanne S. on

I have tried many protein shakes over the years, this is by far the best one. The others have a chalky texture or you can taste artificial sweetener but not with this one. I just wish they could make more flavours. However I love the vanilla and chocolate. I add chia seeds, cocao powder and Greek yoghurt, its so yummy.

Best Women's protein powder around

Posted by Melissa L on

Absolutely love this product, have been using for a few years now and can't live without my morning protein breakfast shake, taste is delicious, love the added vitamins and minerals, low sugar and keeps me full and satisfied until lunch.

A Must Have

Posted by June C. on

The vanilla mixes very well and makes glorious fruit smoothies. It is most useful for weight maintenance and the times I prefer to eat lightly.

Yummier than expected!

Posted by Anna on

Had it for the first time this morning, just shook it up with skim milk after my gym work out. Actually really tasty! I'm so used to having smoothies packed with banana, berries, cinnamon, oats, cacao etc, but this is so nice and easy to simply shake up just with milk in the morning for an easy brekkie. happy with the vanilla and will def try the chocolate next!

Definitely going on my shopping list

Posted by Mirry on

I have found this protein powder to be one of if not the best one I have tried. I have purchased protein powders for the past 15 years and have tried lots of different ones. Define Women's Protein is full of flavour and mixes easily without clumping. 10/10

Stops the biscuit demon in me coming out

Posted by Rachel on

As a bit of a gym freak I love trying new proteins and workout supplements to see how they help me, this is my first time trying define, supposed to cater certain proteins for women only... and finally. One that works. Most people have a sweet tooth.. I was gifted with a biscuit tooth.. this protein is so well flavoured that when I need something sweet I can pop it on some cereal or in a smoothie and it satisfies me completely.. others haven't quite got the flavours right. This has helped me tone up a little more as I'm not eating biscuits and intrigued to see the longer lasting effects.

Surprised

Posted by LiZ on

I bought Define chocolate because of the reviews as I was very confused with the amount of protein powders on offer.
Taste was ok, so I was having my smoothie with oats. Egg and berries , 2 mornings a week.
Didn't take any notice until I was asked if I had lost weight? My stomach had flattened out! Then I realized I wasn't as tired as I use to be after a 10 hour shift and also on my days off I was working on my property and seemed more energetic.
I ran out and started to feel lethargic and bloated. Will try Vanilla this time.

Finally a product that actual performs as it says

Posted by Fiona M. on

So many protein powders are so full of fillers. They not only impede the quality, they also do disastrous things to the taste. My fav is banana so when its on stock up. Never felt better than after my daily shake.

* This is a real user review. There is no guarantee of specific results and individual results may vary.

Taste is spot on.

Posted by Joanne on

Great taste, not powdery with water or milk. Have been a regular with purchasing this product.*

* This is a real user review. There is no guarantee of specific results and individual results may vary.

Fuller for longer

Posted by Catherina M. on

Since starting this protein shake, I haven't craved any snacks and I definitely stay fuller for longer. I use it as meal replacement for breakfast and lunch. And not as hungry as usual at dinner time! Good product

Awesome!

Posted by Rednotblue on

I bought this two weeks ago in an attempt to step up my diet as I sat on a steady weight for over a week. Since then, I've lost 3.5 kgs! My tummy is leaner and I no longer get crazy sugar cravings if I have this for breakfast after my workout. Very smooth, non powdery drink. This is the best I've tried so far!

Vitalstrength define

Posted by Joanne R. on

Love this product have tried others but they were either way to sweet or too strong in a soy taste which made them not enjoyable to take. As I exercise six days a week I need a protein powder that is subtle and enjoyable to drink this product is that for me.

Really does work when you commit!

Posted by Chris on

I started off with 1, 250ml organic milk vanilla shake everyday for three weeks, I felt my energy creep up after the first 12-14 days. I upped my shake intake to twice daily ( mainly as a snack replacement not meal replacement, not pre work out etc ) of 150ml organic milk & 100ml water. It has been 7 weeks now I have been drinking define, I have used the powder in many different smoothies, added spirulina to my daily shakes and have also tried the banana flavour. Define works well blended and adding other powders to it..No clumps, just protein. I am a female tradie by day and the shakes have really picked me up when the energy drops, combined with a healthy lifestyle my energy is through the roof and my abs are coming through quicker than I expected! All in all, I love the stuff...it was definitely not a turn off having the banana flavour but I am a vanilla girl all the way. Got my mum onto it now too......Define works.
---
NUTRITION
NUTRITIONAL INFORMATION
1kg Vitalstrength define Womens High Protein
BEST TAKEN
Mix 25g (approx 1 scoop) with 250ml of skim milk, soy milk, rice milk or water. Best taken within 30 minutes of training and/or between meals. Serving size and frequency may be increased for athletes after consultation with a fitness or health care professional.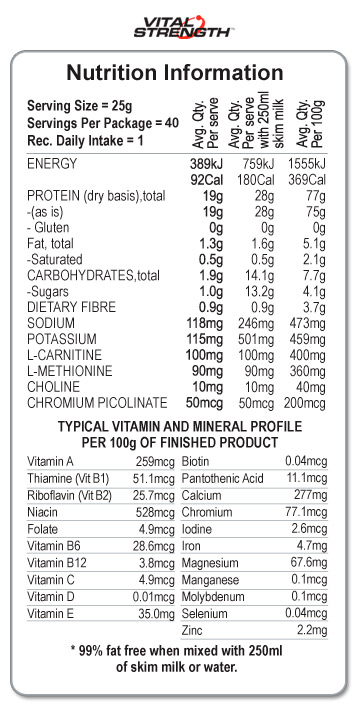 INGREDIENTS
Whey Protein Concentrate, Soy Protein Isolate, Whey Protein Isolate, Dietary Fibre (Inulin), Nature Identical Flavouring, Guar Gum, Xanthan Gum, L-Carnitine, L-Methionine, Anticaking Agent (551), Vitamins & Minerals (Calcium Carbonate, Magnesium Oxide, Ascorbic Acid (Vit C), Iron, Zinc Lactate, Vitamin E, Molybdenum, Nicotinamide (Vit B3), Chromium Chloride, Potassium Iodine, Selenium, Manganese Sulfate, Folic Acid (Vit B9), Vitamin B12, Calcium, Pantothenate (Vit B5), Riboflavin (Vit B2), Vitamin A, Pyridoxine HCL (Vit B6), Biotin, Thiamine (Vit B1), Vitamin D3), Sweetener (Sucralose), Choline, Chromium Picolinate, [Cocoa in chocolate flavour only, Colour (124) in strawberry flavour only].
Contains milk and soy products. Soy lecithin is used to instantise whey proteins and is less than 1% of the whey product. Gluten free ingredients. Made in Australia from local and imported ingredients.
STORAGE
Replace lid immediately after use and store below 30ºC in a cool, dry place. See base of container for best before date. This product is sold by weight - contents may settle.

ADVISORY STATEMENT
This product should be used in conjunction with an appropriate physical training or exercise program. This product is not intended as a sole source of nutrition and should be consumed in conjunction with a nutritious diet and appropriate fluid intake. Not suitable for children under 15 years or pregnant women: should be used under medical or dietetic supervision. Exceeding the recommended serving size may cause harm due to the high level of vitamins and minerals.
Nutritional, Ingredient and allergen Information are correct at time of publish. We always ensure the information on this website is updated with the latest information. From time to time recipes may change and may take time to flow through to customers. Therefore we advise our customers to always read the label on the pack before consuming our products. If you require specific advice on any Vital Strength product, please contact our Customer Service team where we will be happy to answer your questions.
SHIPPING
We know you want to get your Vitalstrength supplements fast, so we use several delivery partners depending on the size of your order and location within Australia.
Orders are despatched Monday-Friday (ex NSW public holidays).
The following shipping rates apply. Shipping is calculated within your shopping cart, once you select your delivery postcode. *Several regional areas do not qualify for free shipping due to the increased costs in shipping these items from our Sydney facility.
| | |
| --- | --- |
| $9.90 Flat Rate Shipping | Sydney Metro Areas |
| $14.95 Flat Rate Shipping | Perth Metro, NSW Country, South Australia Metro, Hobart Metro |
| $15.95 Flat Rate Shipping - Does Not Qualify For Free Shipping | QLD Country, VIC Country, SA Country & Tasmania Country |
| From $22.95 - Does Not Qualify For Free Shipping | WA Country, NT Country, Darwin & Alice Springs, QLD Country Far |
SAME DAY DESPATCH
Orders received before 2pm on a business day are despatched that day, orders received after 2pm will be despatched on the next business day. Orders placed on the weekend will be sent on the next business day.
ORDERS LEFT UNATTENDED
We will not leave orders unattended. Ensure the delivery address you supply will have someone authorised to accept delivery between 8am-5pm Monday-Friday. If our delivery partner is unable to make a delivery, a card will be left advising of the procedure to arrange collection or redelivery of your order.
For full shipping details please click here for our detailed shipping page
RETURNS
We want you to love our products and enjoy your shopping experience whether in our retail partner stores or at www.vitalstrength.com. If you are unhappy with any Vitalstrength product, please contact us via email or phone 1800 687 117 within 14 days of receipt.
For full terms and conditions regarding our returns policy please visit our returns page here.